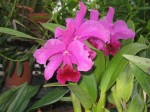 The Values-in-Action (VIA) is a classification system and measurement of strengths created by Christopher Peterson, Ph.D., Martin Seligman, Ph.D., Katherine Dahlsgaard, Ph.D., and other prominent psychologists. Through reading philosophical and religious texts from around the world, 6 core virtues: Wisdom and Knowledge, Courage, Love and Humanity, Justice, Temperance, Spirituality and Transcendence, were identified. These 6 core virtues having been taught or praised by almost all spiritual and philosophical traditions around the world and throughout time.  The reason these 6 virtues are highly regarded is that when practiced they form the foundation for good character in individuals.
Seligman and his colleagues realized that by identifying and utilizing one's personal strengths, or character traits, one could develop and cultivate virtues.
In creating a classification of strengths, Seligman and his colleagues realized that once strengths are identified, they can then be consciously cultivated and developed.  A strength takes conscious effort to utilize in one's daily actions. This differs from a talent, which is more innate.  When a strength is used when taking action, the result almost is always virtuous.
There are 24 signatures strengths.  By taking the Values-In-Action (VIA) Survey of Character Strengths, your strengths will be ranked, so that you can identify your top character strengths.
The benefits of utilizing character strengths include:
By taking action that utilizes one of your character strengths you will likely experience an increase in positive emotion
You will feel a sense of excitement when using your strength
You will feel fulfilled and energized by using your strength
The more conscious you are in using your strengths, the more and more ways you will come up with ways to cultivate your tops strengths
Feel free to contact me with questions about your strengths and ways to creatively use them. In later posts, I look forward to exploring each of the strengths and suggesting some ways that you can incorporate them into life.
Deborah Barnett, Ph.D.
Positive Psychology counseling in Asheville, NC and Phone Consulting for Positive Results
www.DeborahBarrnett.com