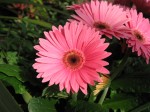 Positive Psychology focuses on helping individuals cultivate their signature strengths. You can discover yours by taking the VIA Signature Strengths self-assessment. Why  discover your signature strengths? When your signature strengths are developed and cultivated, you can develop a greater sense of self and accomplishment.
The VIA Signature Strengths Survey identifies 24 strengths. Two of these include Citizenship and Teamwork; and Fairness, Equality and Justice. If either of these are your signature strengths, here are some ways that you may want to cultivate these strengths:
To cultivate Citizenship and Teamwork:
Be socially responsible. Join events or rallies, speak publicly, and promote humanitarianism.
Volunteer at a community project, or pick up litter on the ground.
Actively participate in an organization you are part of.
Join in a neighborhood activity.
To cultivate Fairness, Equality and Justice:
Hear out another's opinion without prejudice or pre-judgment
Be conscious of moments where you can stereotype or judge someone, and start to avoid those circumstances
Be the mediator in an argument between friends and set your personal beliefs aside for the time being.
For support and more information on how you can cultivate your Signature Strengths, contact Deborah Barnett at www.DeborahBarnett.com